PASSPORT AROUND THE CON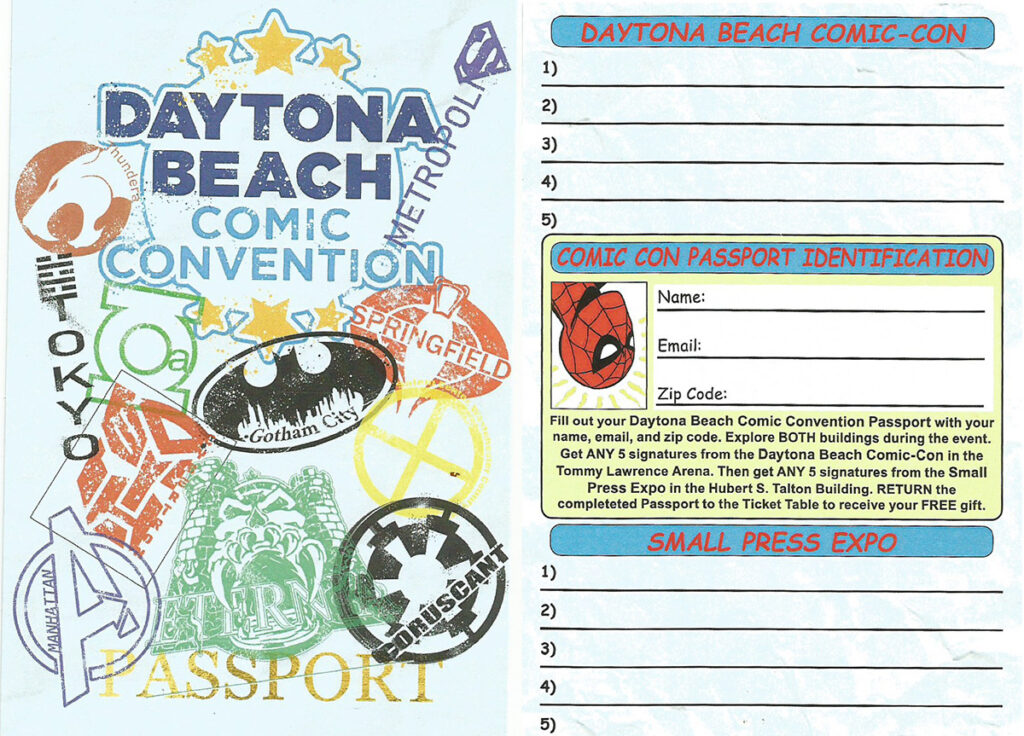 This is our way to have attendees go in each building. You will find vendors, guest, artist in each building.

This card needs 5 signatures from each building. Once you get them signed, you will get a goodie bag at the admission table.
---
PANEL ROOM LOCATED IN THE HUBERT S. TALTON BUILDING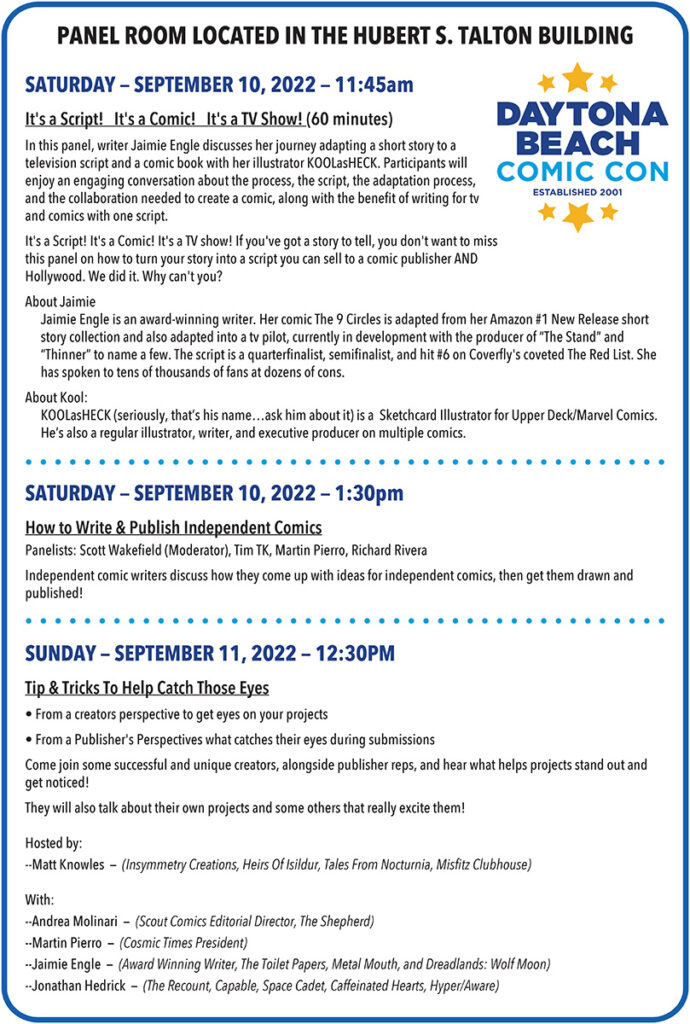 SATURDAY SEPTEMBER 10, 2022
11:45AM
It's a Script! It's a Comic! It's a TV Show! (60 minutes)
In this panel, writer Jaimie Engle discusses her journey adapting a short story to a television script and a comic book with her illustrator KOOLasHECK. Participants will enjoy an engaging conversation about the process, the script, the adaptation process, and the collaboration needed to create a comic, along with the benefit of writing for tv and comics with one script.
It's a Script! It's a Comic! It's a TV show! If you've got a story to tell, you don't want to miss this panel on how to turn your story into a script you can sell to a comic publisher AND Hollywood. We did it. Why can't you?
About Jaimie
Jaimie Engle is an award-winning writer. Her comic The 9 Circles is adapted from her Amazon #1 New Release short story collection and also adapted into a tv pilot, currently in development with the producer of "The Stand" and "Thinner" to name a few. The script is a quarterfinalist, semifinalist, and hit #6 on Coverfly's coveted The Red List. She has spoken to tens of thousands of fans at dozens of cons.
About Kool:
KOOLasHECK (seriously, that's his name…ask him about it) is a Sketchcard Illustrator for Upper Deck/Marvel Comics. He's also a regular illustrator, writer, and executive producer on multiple comics.
---
1:30PM
How to Write and Publish Independent Comics
Panelists: Scott Wakefield (Moderator), Tim TK, Martin Pierro, Richard Rivera
Independent comic writers discuss how they come up with ideas for independent comics, then get them drawn and published!
SUNDAY SEPTEMBER 11, 2022
12:30PM
TIP AND TRICKS TO HELP CATCH THOSE EYES * From a creators perspective to get eyes on your projects * From a Publisher's Perspectives what catches their eyes during submissions Come join some successful and unique creators, alongside publisher reps, and hear what helps projects stand out and get noticed!
They'll also talk about their own projects and some others that really excite them! Hosted by: –Matt Knowles (Insymmetry Creations, Heirs Of Isildur, Tales From Nocturnia, Misfitz Clubhouse) WITH:
–Andrea Molinari (Scout Comics Editorial Director, The Shepherd) –Martin Pierro (Cosmic Times President)
–Jaimie Engle (Award Winning Writer, The Toilet Papers, Metal Mouth, and Dreadlands: Wolf Moon)
–Jonathan Hedrick (The Recount, Capable, Space Cadet, Caffeinated Hearts, Hyper/Aware)