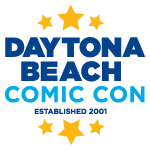 We could not do our convention without the support of the retailers.
Thanks to all of you for helping get the word out by handing out show flyers, hanging up show posters and those who sell pre-show tickets to their customers.
Here is a list of the stores the help us bring the show to you. Please support your "LCS" – Local Comic Shop/Store!
BRANDON
Urban Legend Comics
1337 Oakfield Dr.,
Brandon, FL 33511
Phone: 813-943-1728
CLERMONT
Windu's Comics and Collectibles
194 US Hwy 27, Ste. A,
Clermont, FL 34715
CRYSTAL RIVER
Twice Upon A Toy
8012 W Gulf to Lake Hwy,
Crystal River, FL 34429
Phone: 352-613-0131
DAYTONA BEACH
Tidalwave Comics and Collectibles
E-2 Shops at the Daytona Beach Flea Market, International Speedway Blvd.,
Daytona Beach, FL 32118
Phone: 386-566-9850
World of Comics
2133 S. Ridgewood Ave,
South Daytona, FL 32119
Phone: 386-760-0555
Goblins Cave
Booths 54 and 43
Daytona Beach Flea Market
International Speedway Blvd
Daytona Beach, Fl 32118
Rainbow Records
2900 S. Nova Road, Unit 2
South Daytona, FL 32119
386-295-1647
DELAND
Cliff's Books
By appointment only
209 N. Woodland Blvd., DeLand, FL 32720
Phone: 386-738-9464
GAINESVILLE
All Star Comics
7241 NW 4th Blvd.,
Gainesville, FL 32607
Phone: 352-372-2700
JACKSONVILLE
Cosmic Comics and Collectibles
11018 Old St. Augustine Rd., Ste. 128,
Jacksonville, FL
Phone: 904-647-8002
Gotham City Limits
4195 Southside Blvd, Ste 104,
Jacksonville, FL 32216
Phone: 904-641-3335
Mythical Mountain
11570 San Jose Jose Blvd. Suite 13, Jacksonville FL 32223 Phone: 904-680-1308
KISSIMMEE
CARITAS COMICS
3813 Pleasant Hill Rd.,
Kissimmee, FL 34746
Phone: 407-818-8108
LECANTO
Pop-Culture-RAMA
3812 West Gulf to Lake Hwy
Lecanto, FL 34453
LONGWOOD
Davey's Toys
216 W. Warren Ave.,
Longwood, FL 32750
Phone: 407-808-6877
MARGATE
Phil's Comic Shoppe
6512 W Atlantic Blvd.,
Margate, Florida 33063
Phone: 954-977-6947
MAITLAND
Blackbird Comics and Coffee House
500 E Horatio Ave, Ste 3,
Maitland, FL 32751
Phone: 321-316-4296
MELBOURNE
9.9 Comics
1284 Samo Rd.,
Melbourne, FL 32935
Phone: 321-544-8124
OCALA
Bearded Browncoat Comics and Games
500 SW 10th St., Ste. 105,
Ocala, FL 34471
Phone: 352-433-2249
Vibranium Comics
2801 SW 20th St., Ste. 201,
Ocala, FL 34474
Phone: 352-357-9049
Vintage Toy King
3225 E. Silver Springs Blvd.,
Chelsea Square Plaza,
Ocala, FL 34470
Phone: 352-502-6622
OCOEE
West Orange Comics and Video Games
1575 Maguire Rd., #108,
Ocoee, FL 34761
Phone: 407-741-3195
ORLANDO
Gods and Monsters
5421 International Drive,
Orlando, FL,32819
Phone: 407-270-6273
Living Dead Comics
Dover Shores Shopping Center,
3227 Curry Ford Rd.,
Orlando, FL 32806
Phone: 407-896-3323
Epic Comics
570 N. Alafaya Trl., Ste. 106, Bldg. C,
Orlando, FL 32828
Phone: 407-730-3742
ORMOND BEACH
Cloak and Dagger
729 S. Nova Rd.,
Ormond Beach, FL 32174
Phone: 386-672-4980
RIVERVIEW
Comic Spot by JMD Toy Store,
10453 Gibsonton Dr,
Riverview, FL 33578
Phone: 813-512-6134
The Toy Addict
6520 US Hwy 301 S,
Riverview, Florida 33578
Phone: 813-442-6139
SANFORD
Comic Central
1425 WP Ball Blvd.,
Sanford, FL 32771
Phone: 407-321-51117
SAINT PETERSBURGH
Feed Your Imagination
7215 Central Ave.,
Saint Petersburgh, FL 33710
Phone: 727-710-6189
TALLAHASSEE
Fallout Comics
1484 Apalachee Pkwy.,
Tallahassee, FL 32301
Phone: 850-765-6654
TAMPA
Yancy Street Comics South
13944 W. Hillsborough Ave.,
Tampa, FL 33635
Phone: 813-336-4974
TITUSVILLE
The Infinite Mushroom
342 S. Washington Ave.,
Titusville, FL 32796
Phone: 321-567-4893
WEBSTER
Double Lucky Disney Pins and Funko Pops
Every Monday at Webster
Swap A Rama Westside Flea Market
Booth MAROON
Building 40-43,
516 NW 3rd St.,
Webster FL 33597
Phone: 407-238-7860