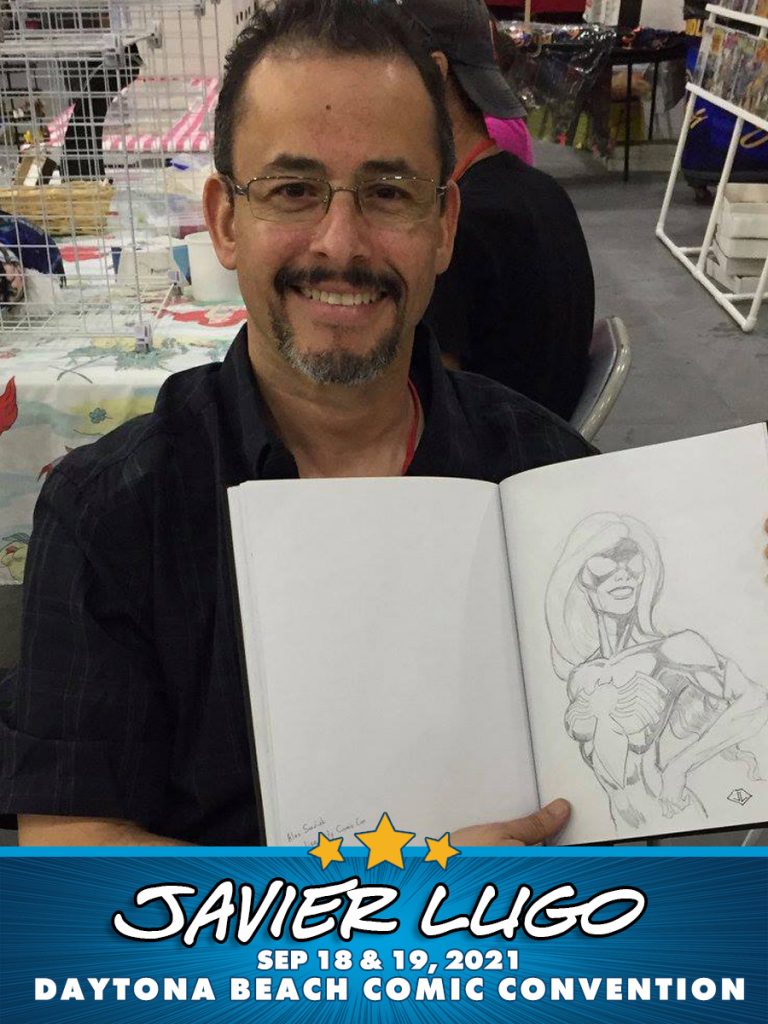 Javier Lugo is a Comic Book artist that draws superheroes, wrestling, westerns, combat, horror, sci-fi and fantasy for a series of independent comic book companies and individual creators. Projects recently completed include FemForce 180-185, 30 AZ, Bobby Fulton & the Fantastics #1, SuperBabes #1 and RICANSTRUCTION.
He's had artwork published by AC Comics, Somos Arte LLC, Squared Circle, CornerStone Creative Studios, CAE Studios and IDW!
He is currently developing American Eagle with co-creator Jesse Hansen; Bobby Fulton #2 and NEPTUNE: Mission to Triton with John Crowther and Green Tempest with Brent Sheuerman.
This is in addition to his freelance art projects and personal projects.
Creative highlights include:
Provided cover illustration for Return to Sender #1, and sequential illustrations for Bobby Fulton and the Fantastics #2, American Eagle #1, Green Tempest #1 and over 50 sketch covers, all produced in 2020.
Provided cover illustrations for FemForce #184 & Alien-X #4, sequential interior art for SuperBabes #1, a short story for Zombies-We're Human Too vol 1., an additional 5 pages for Project: OverWatch #1, 3 short stories for FemForce #184-186, all produced in 2019
Proud contributor to the RICANSTRUCTION- Reminiscing and Rebuilding Puerto Rico anthology headed by Edgardo Miranda-Rodriguez! 2018
Bobby Fulton and the Fantastics #1, a wrestling comic book written by John Crowther and successfully KickStarted in June 2018!
Bobby Fulton and the Fantastics #2, a wrestling comic book written by John Crowther and successfully KickStarted in February 2021! It completes the story, and is available in Hardcover!
A 6 page short story adaptation of THE PURGATORIST, an independent horror film created and scripted by Maurice Jovan, published by CAE Studios, the images were used to help gather funding to shoot a short 10 minute film that features his artwork. It is currently doing the rounds in the short film circuit and is winning awards. He collaborated with Martin Dunn and Jeremy Hobbs on this project. 2017.
Penciled art for a Retailer Exclusive Comic Book Cover for IDWs' REVOLUTIONS #1, featuring main characters from the TRANSFORMERS and GIJOE toy and comic lines in 2016 in collaboration with Martin Dunn and Aly Dunn.
Co-created (with Martin Dunn), designed and penciled a superhero comic book called PROJECT: OVERWATCH from 2012-2016. Characters include Sentinel, Ghost, Paragon, Athena, Slaughter and over a dozen more. Had to re-brand the book to Project: APEX to avoid market confusion with a popular video game. 2016.
Donated artwork with Martin Dunn for The Sakai Project, by Dark Horse! 2014
Based out of Zephyrhills, FL, Javier attends comic book store events and conventions up and down the East Coast to promote his current projects while selling his original artwork.