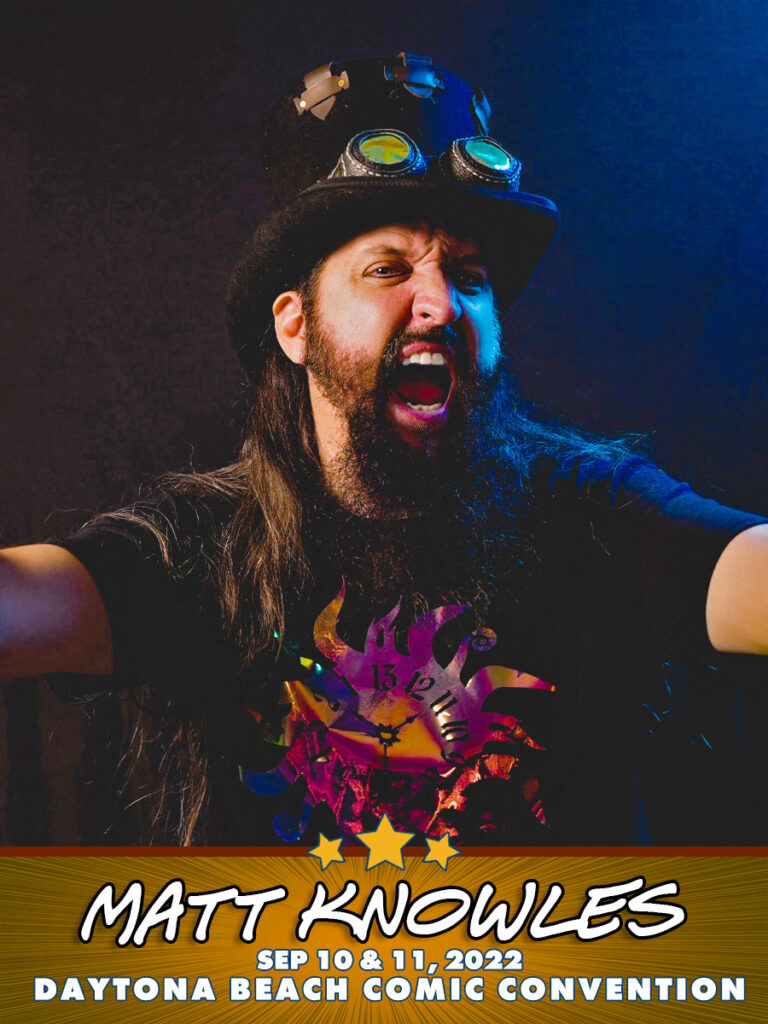 As a musician, writer, and steampunk personality, Matt Knowles has dipped his toes into many different creative pools over the years. He is no stranger to being in the public eye, having fronted metal bands, and being an in-stadium P.A. announcer for multiple pro/semi-pro soccer teams (including being the current voice of the USL League 2 side THE VILLAGES SC).
Matt's first foray into the non-lyrical writing and creating world was the e-book version of HEIRS OF ISILDUR – THE CROSSROADS CONUNDRUM which begat the comic story arc of the same name. That arc saw 11 individual issues that were then reformatted/reenvisioned into a 268-page graphic novel.
The HEIRS OF ISILDUR one-shot NIGHTMARE SCENARIO and the BRAND NEW arc THE PERILOUS PROSPECTS are co-written by KNOWLES and his #TeamINSYM partner STEPH CANNON. They are in traditional comic format.
The pair are also the co-creators and co-writers of medieval fantasy series TALES FROM NOCTURNIA, and the all-ages short story series MISFITZ CLUBHOUSE (Scoot Comics /Scout Imprint).
Matt is also the mad scientist behind INSYM's musical side, birthing both HEIRS OF ISILDUR – THE CROSSROADS CONUNDRUM and the brand new HEIRS OF ISILDUR vs TALES FROM NOCTURNIA into existence.
Matt is also building a resume as a panel moderator/host, being the FULL WEEKEND EMCEE / Moderator for multiple events, including:
SPOOKALA (Ocala FL) 2022
COLLECTIVE CONVENTION (Jacksonville FL) '20 '21 '22
OCALA COMIC CON (Ocala FL) 2021 ('22 Upcoming)
At these events he's interviewed pop culture guests from across the entertainment spectrum, such as The Mandalorian, Star Wars (Book Writers, Video game voice actors), What We Do In The Shadows, Breaking Bad, Better Call Saul, Locke & Key, My Hero Academia, Power Rangers, Halloween, Friday The 13th, American Horror Story, Weird Science, Scary Movie, Supernatural, Pet Sematary, and more.
He was also privileged to host the GLOW Gorgeous Ladies of Wrestling panel at Los Angeles Comic Convention (Dec 2021).
He has also hosted/co-hosted panels at Tampa Bay Comiccon, Ocala Comiccon, Aethertopia, Collective Con,  Daytona Beach Comic Convention, and PalmCon. He has been on panels at the above and MegaCon Orlando, Daytona Beach Comic Convention, and Spooky Empire.
He is an occasional writer and podcast personality for CFBDynasty.Com – the leading site for college fantasy football information, insight, and cheat sheets.
He also has written for, conducted interviews for, and guest-hosted radio shows for MidwestMetalShow.Com, The Jay Wendell Show & Sounds of the Apocalypse (Rock Rage Radio), and even once guest-hosted the HONEST BRUTALITY game show.
Matt also serves as the editor/proofer for all movie reviews, articles, and columns written by Steph Cannon.